NEW GAME - MacPinball
21/11/07 15:11

After countless hours of design and development, baKno is proud to launch our newest game: MacPinball.

Yes, a Pinball simulation, and also our first 3D game with lots of cool features. This first version only comes with a single table design, but we are already working on more to add to the same game.



Product Review about Carambola in SVM Mac
03/11/07 09:42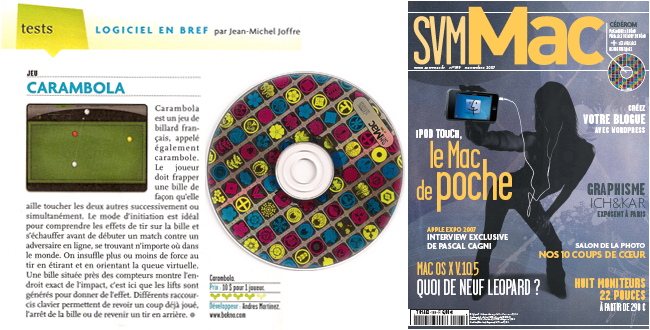 SVM Mac is the most popular Mac magazine in France. They decided to include our Carambola game within their cover CD-Rom, complemented with this great product review.
E for All in Los Angeles
20/10/07 00:20




We attended the new E for All event in Los Angeles Convention Center. This event showcases the latest in video games from the mayor developers.
MacPool 8.3 Released
17/10/07 23:15

We are very proud of the new feature contained in this version: Shot Saving Capability.

Now you can save your last shot as a Flash animation, yes, "animation" not movie, and this means that the generated file is very small (60K-80K), so now you are able to record your best shots and share them by email or even post them in webpages because Flash is the standard in web animation.

This was one of the most demanding developments so far. Flash files are very complex, they don't waste storage space, therefore we were forced to work at bit level in order to generate a Flash compliant file from within MacPool.



Website Upgrade
09/10/07 14:06

In order to get closer to our community of players and visitors, baKno introduces three new sections to our website.

Blog: This section captures our weekly happenings and provides information on new games releases and roadmaps.

Forum: We expect this to be a useful communication tool for our players, a place created by the baKno community for the baKno community.

Newsletter: A monthly subscription based email to anyone interested in our games. The newsletter is published on the website also.



baKno starts real business operations
01/10/07 13:53

After 2 years of midnight development, Andres Martinez decides to become an "Indie Game Developer".

Now baKno has its founder working full time, developing more games and functionality for our players.